Petitions & Addresses
SAVE ZIM!
Get Zim moved to Cartoon Network: This seems to be the best idea. Nickelodeon will never allow Zim the freedom it needs. If indeed a move is possible, let's try to get it to happen. Send nice letters to Cartoon Network via snail mail (it shows much more dedication and they won't take kindly to stupid screamy flame things) at this address:
Cartoon Network
Attn: Programming Department
1050 Techwood Drive
Atlanta, GA 31038
Thanks to tigre042@aol.com for sending me this idea and address!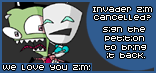 Started at Gir. Probably the dominant petition with over 2000 signatures.
Save Invader ZIM!: Its pretty much official. Zim's been cancelled. Sign here to try to make Nick change their minds. Started here at Subjugated.
Save Spongebob, Invader ZIM and Hey Arnold!: Web whisperings also have it that Spongebob Squarepants and Hey Arnold may be cancelled. Sign here to keep these great shows and Zim on the air!